FRIME AT SEAFOOD NORTH AMERICA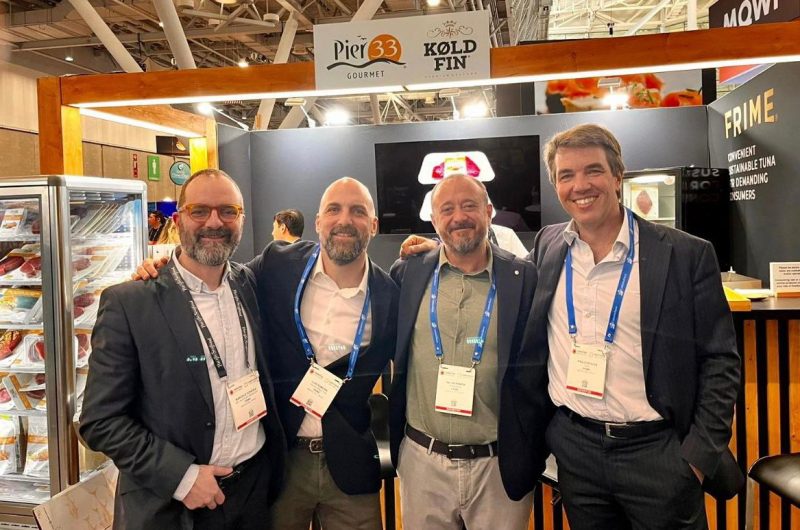 This week we have been present at the 41st edition of Seafood North America, the most important international trade fair for the seafood sector in North America.
The event, which took place from March 12 to 14 in Boston, brought together the most prominent companies in the industry to showcase their most innovative products and services, as well as to present the latest trends in the market.
Frime has been at booth 117, exhibiting its wide range of tuna products, as well as its international distribution. Our President, Salvador Ramon, and General Manager, Pablo Múgica, together with our sales representatives responsible for the US accounts, Marcelo and Luis Soneira, who have been at the disposal of the visitors to provide detailed information about our products and services.
In addition, we have presented our latest innovations in packaging technology, different packaging formats such as cases, flatskin and doypacks, which always guarantee the quality and freshness of the tuna.
During the three days, tastings of different types of tuna cuts have been carried out, being the tuna burger the protagonist of our tastings at the stand. In addition, we have exhibited all the new products for retail and foodservice formats for the US market.
Seafood North America is a unique opportunity to establish business contacts and strengthen relationships with customers and suppliers from all over the world. This year has been a success, and we have received a very good reception in this market, not only for the quality of the visitors, but also for the great acceptance of our differentiating proposal. We hope to continue collaborating with many professionals and companies in the sector and consolidate our position as a leader in the sector.
More than 40 years of experience have led us to become the main European seller of MSC yellowfin tuna and to market our products on an international scale. Today, we are present in more than 30 countries.
Seafood North America is an important event in the seafood community, as it is the largest seafood trade show in North America and brings together more than 20,000 people from 100 different countries. And the Boston show is not the only one – it is part of a series of events called Seafood Expo, which are the highest quality trade events produced by Diversified for seafood buyers and suppliers from around the world.